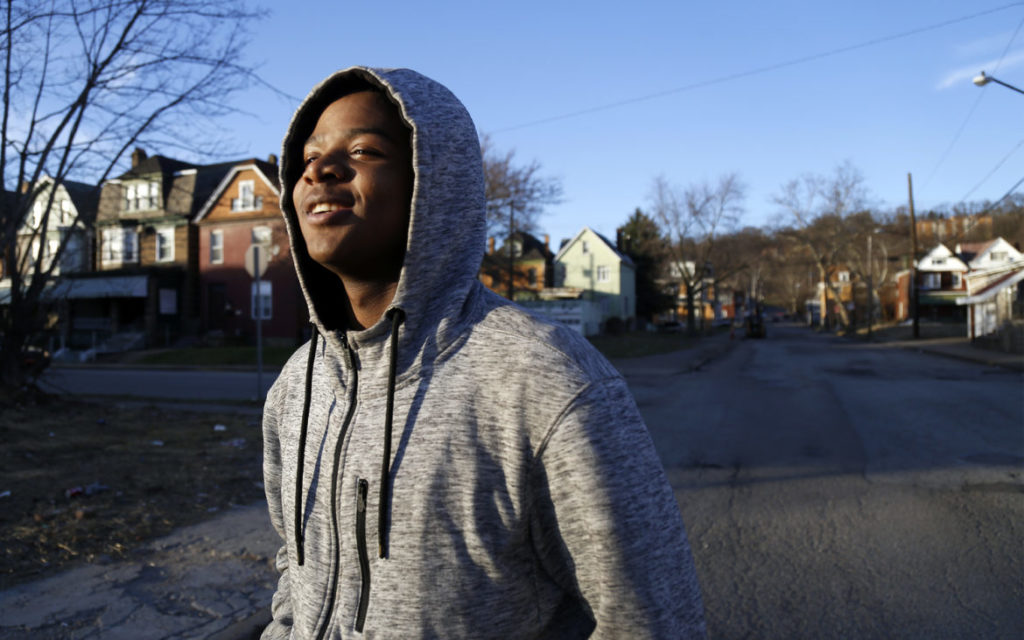 "One Pittsburgh student's relationship to food illustrates what healthier school lunches can do for kids"
After school, 16-year-old Maleeke Reid works at a community gardening program in Homewood. He gets paid $5 per day for tending the vegetable gardens and attending classes, where he and his friends sometimes joke about being fed "vegan food."
On payday, he and two friends from the Junior Green Corps look forward to heading across the street to Shuman's All in One, a convenience store and restaurant. There, Maleeke typically orders a cheesesteak hoagie with fries slathered in cheese, and then the boys head for home.
"Nobody throws snowballs no more. You been noticing that through the years?" Maleeke's friend, Davon Reynolds Jr., asked wistfully one day after the program. "They talk about it but they don't throw them. It's like the snow is boring now."
The boys' conversation continued as they avoided the gaze of the people who they say have already started drinking and will still be on the street late at night.
They briefly stopped by a neighbor's house to look at their two favorite dogs before arriving at Maleeke's house; the boys slapped hands and Maleeke headed upstairs. He navigated an unlit stairwell and plopped onto his bed, where he often naps until dinner.
Maleeke's doctor recently told his mom that he was sleeping too much and eating too many noodles. The teen has taken up boxing on Sundays, where coaches told him he needed to shed more than 30 pounds from his 213-pound frame.
The relationship young people develop to food can affect how they feed themselves and their future families, but there are many factors that affect what young people eat. In a country where obesity among children is at an all-time-high and millions of children still cannot count on three meals per day, several prominent public health policies have emerged to combat the problems.
The reality is that some of those efforts either haven't gotten off the ground (e.g. taxing sugary drinks) or have been largely ignored (e.g. listing calories on fast food menus). And even one of the most popular recent efforts — to bring grocery stores to food deserts — has little impact on what kind of food people buy, according to a January study by the National Bureau of Economic Research.
Amid all these setbacks, there is one oft-overlooked tool, which health experts believe could offer students a way to change their eating habits: school food.
It's a tired joke to point out that school lunches are bad: the mass production of prepackaged food isn't always appetizing. And it's widely acknowledged that school lunches had generally become less healthy until federal requirements pushed back, first in 2006 and most recently with the implementation of new guidelines in 2012. Some studies even blamed school lunches for contributing to obesity.
The new school nutrition requirements inspired hope that school lunch could be students' healthiest meal of the day.
After more than five years, it's clear that Pittsburgh students didn't stop eating the school food after the levels of salt, fat and sugar went down. And, because the high rate of students from low-income backgrounds in Pittsburgh Public Schools, the food is free for all.
But are the district's efforts really making kids eat any healthier?
The district doesn't really know. It doesn't regularly monitor how many kids are actually eating the fruits and vegetables. It doesn't know if the healthy options are creating habits that lead students to choose healthier food outside of school. And it doesn't know if students are eating less in school only to make up for it with more junk food at home.
With all the unknowns, the effects have to be extrapolated from the complicated lives of individual students….Continue reading
You can also listen to a 7 minute radio feature I produced with WESA about school here or stream it on SoundCloud below.